Dartington Conferences
1952 and 2003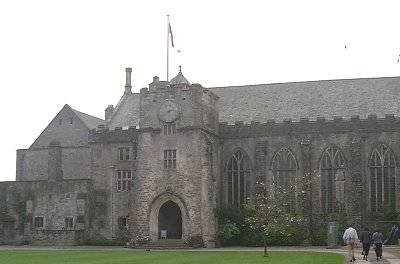 In March this year I attended the David Leach Symposium held at Dartington Hall and visited the accompanying exhibition at the Devon Guild of Craftsmen at Bovey Tracey near Exeter. In 1952, Dartington played host to an International Conference of Craftsmen in Pottery and Textiles which ran from July 17th to 27th. An exhibition entitled Pottery and Textiles 1920-1952 was held in connection with the conference and ran from June through to December 1952. Although over 50 years passed between the two events there is one major link - David Leach. In 1952 David was still working at the Leach Pottery in St. Ives whereas today as we all know he is still producing pots at Lowerdown, just down the road from Bovey Tracey.
In this article I examine the two events and share the notes and photographs that I took at the David Leach symposium and exhibition in March 2003.

Apart from the image of the David Leach Symposium flyer which was produced the Devon Guild of Craftsmen, all the photographs are my own

Click on the images to see larger versions.
---
Pottery and Textiles 1930-1952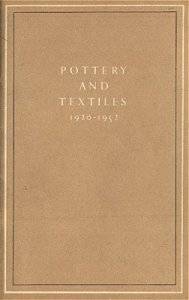 Although I am too young to have visited the 1952 conference, I do have a copy of the exhibition catalogue which contains some useful and interesting information. The event was sponsored by the Arts Department of Dartington Hall and in the Foreword, Peter Cox opens by saying that the exhibition "brings together a selection of the best work done in hand-made pottery and textiles in this country since 1920" and "reveals not only a high standard of workmanship but also aesthetic quality and inspiration". He goes on to discuss the fundamental problem faced by the artist craftsman in modern industrialised society - the ability to produce something that cannot be as well produced by industry and something which at the same time the public wants and can afford to buy. The craftsman must possess a considerable degree of originality and his products must, however simple and unpretentious they may be, have a real aesthetic appeal. He then touches on the practical difficulties working in the modern world geared for mass production - training and capital costs, finding economic production methods, working within government regulations and restrictions designed to control industry, obtaining good quality raw materials and equipment at affordable prices. Praise is given to personalities such as Bernard Leach and Ethel Mairet whose workshops became centres where the younger generation could get training and work experience. After the war, the number of practicing craftsmen increased as many people sought in the crafts a way of life, which while offering meagre income gave fundamental satisfaction. This unfortunately led to the production of work showing insufficient technical quality and little or no original inspiration.
Mr Cox went on to say that the raising of standards is of fundamental importance and that the 1952 conference would pool the experience of its 80 delegates from all over the world and consider the problems facing craftsmen. The accompanying exhibition included work produced between 1920 and 1952 and it was hoped that it would be of use to the large number of young craftsmen who had not had an opportunity to see some of the distinguished work done before the war. The exhibition toured the country showing at Edinburgh, London and Birmingham.
Due to space limitations, the exhibition was restricted to just two crafts - pottery and textiles, and also to the work of craftsmen who had worked in Great Britain. Fortunately Shoji Hamada's brief soujourn at the Leach Pottery in St. Ives enabled his inclusion. According to Mr. Cox, the pottery exhibits demonstrated Hamada's considerable influence on British potters. Two committees were formed, one for pottery the other for textiles and each was tasked with selecting twenty to thirty craftsmen to show their work at the exhibition. The pottery committee included Bernard Leach and the collector George Wingfield Digby and the textiles committee Muriel Rose and Marianne Straub.As well as the showing crafts from 1920-1952, a selection of older work which influenced the work of the exhibitors was also shown. The pottery section included a selection of Chinese, Korean and Japanese pots from the 12th century onwards together with examples of medieval and 18th century English pots.
In the main exhibition, the pottery section comprised 182 pots featuring work by Bernard Leach, David Leach, Michael Leach, Shoji Hamada, William Staite-Murray, Sam Haile, Michael Cardew, Lucie Rie, Katherine Pleydell-Bouverie, Constance Dunn, William Marshall, Paul Barron, P.S. Wadsworth, Henry Hammond, Dorothy Kemp, Kenneth Quick, Warren and Alix Mackenzie, Hugh Purdie, Alex Sharp, Hans Coper, Marianne de Trey, Harry and May Davis, William Gordon and James Tower. The catalogue details each pot but only has five monochrome photographs of individual pots by the most prominent potters:
| | | | | |
| --- | --- | --- | --- | --- |
| | | | | |
| Bernard Leach | Shoji Hamada | William Staite-Murray | Michael Cardew | Lucie Rie |
---
The final section of the exhibition catalogue contains a short biography of the craftsmen whose work was included. The content of these biographies suggests that they were written by the craftsmen themselves as they contain the following quotes:
| | |
| --- | --- |
| Katherine Pleydell-Bouverie | 'Has made all the mistakes possible, passed no exams and taken no degrees. Experience purely practical !' |
| | |
| Michael Cardew | '..1950 to the present time Nigeria, first for a tour investigating materials and conditions and then building up a training centre on a small scale, in Abuja, Niger Province, where he teaches Africans the techniques of wheel throwing, kiln firing and glazing. Spends intermittent leaves at Wenford Bridge.' |
| | |
| William Marshall and Kenneth Quick | 'c/o The Leach Pottery - Born at St. Ives. Local education, trained at the Leach Pottery' |
| | |
Presumably Bill and Kenneth either didn't provide any information or Bernard Leach replied for them!
A Japanese company has recently published the findings of the 1952 conference in a book. A lady from the publishers attended the David Leach Symposium and presented David Leach with a copy.
---
David Leach Symposium - March 2003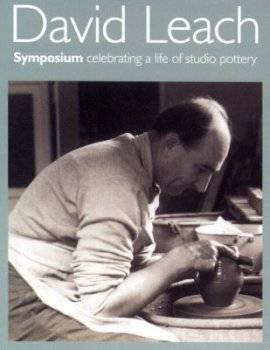 The symposium was opened by Alex Murdin, the Director of the Devon Guild of Craftsmen, who thanked the delegates for attending and set the scene for the rest of the day. Alex explained that David Leach was a founder member of the Devon Guild and that the David Leach exhibition spans 50 years of work and shows David's styles and progression. Alex revealed that David was in the audience and said that this would be a day of eulogies. The format of the day was explained and Alex welcomed the speakers – Emmanuel Cooper, Kathy Niblet, Edmund de Waal, Paul Vincent and Tim Andrews and finally welcomed David Leach to a round of applause.
Around 80 people attended the Symposium. Unfortunately there were no name badges so most people's opening gambit was along the lines of "are you a potter ?"!
The first two sessions were held in the main hall, an imposing room with huge windows and a very high ceiling. Unfortunately the light in the hall was so bright that the presenters slides could not be seen. The organisers managed to move Edmund de Waal's session to a different room so that his accompanying slides could be viewed
My notes from the talks follow, I apologise for any inaccuracies which are my own.
Emmanuel Cooper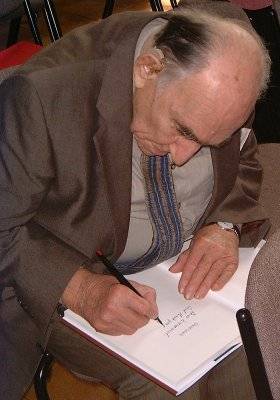 Emmanuel told David's life story, from his birth in Tokyo in 1911 to the present day where David still pots at Lowerdown near Bovey Tracey in Devon. Emmanuel has recently published a biography of Bernard Leach and during the research for that book learned so much about David who still has a sound mind and a vivid memory.
Bernard Leach was a visionary rather than a practical craftsman, David is practical and creative. His family were from a military and judicial background, working in Singapore and Japan. David thus had first hand experience of Japan where his father used a Japanese pottery wheel, these worked clockwise – the opposite to Western wheels.
Bernard kept a diary during David's early years in Japan and wrote that David "was a large and bouncy baby". Bernard soon moved the family to China and David learned to speak Chinese to go with his Japanese. Soon Bernard returned to Japan – his Isles of Enchantment. Bernard produced etchings whilst in Japan including two of David – one a portrait with David wearing a hat and the other of David resting in the mountains. (On a visit to Lowerdown David told me that he and his father had gone for a long walk in the mountains. David became exhausted and so his father passed the time sketching David and the mountains while he rested.)
The family returned to England in 1920, a young Shoji Hamada came with them to St. Ives where a benefactor helped them set up a pottery. They visited local potters and there learned how to pull handles, the method was then used at St. Ives. David and brother Michael were sent to boarding school where David excelled at sports. David originally wanted to study medicine but later decided to follow his father's footsteps.
At the time, Studio Pottery was not popular and there was only a small market, the economy was in decline but the St. Ives pots sold well in Japan. The Japanese said that the large slipware plates were born not made.
Bernard was asked to set up a pottery at Dartington and as finances were so bad at St. Ives he took up the offer. In 1934 Bernard was invited to tour Japan for two years, the trip being paid for by the Elmhursts of Dartington. David went to Dartington whilst Bernard was in Japan.
David attended the Pottery Manager course at Stoke-on-Trent. Bernard hated this but he was away. On his return to St. Ives, David made a number of changes
:
| | | |
| --- | --- | --- |
| | The kiln was changed over to oil from wood to give more reliable and shorter firing times | |
| | Started production of Standard Ware | |
| | Started the apprentice system to gain a stable workforce rather than students | |
| | Moved from earthenware to stoneware | |
This all helped put the pottery on a sound financial footing. A catalog and ordering system also helped sell the standard ware.
In 1949 David had his first one person show in St.Ives where 100 pots were exhibited. The exhibition was reviewed by Ben Nicholson and Barbara Hepworth who asked where does craft fit into the art world? Hepworth thought David's work had earthy, spiritual qualities.
David became more involved with the production of standard ware and the pottery had a stand at the 1951 Festival of Britain event. Also around this time a presentation set of mead bottle and cups was produced for a company who gave them as gifts to their most valued customers.
In 1953 David taught at Loughborough College of Art. Before he arrived, the ceramics department was run by a glass specialist and had received bad marks fro an HMI inspector. The college Principal panicked and offered David a huge salary which he couldn't refuse. David spent a year working at Loughborough, returning to St. Ives in the holidays where he still managed the pottery as Bernard was in Japan most of the time. Many Leach students set up their own potteries and spread Leach influence far afield.
Before moving to Lowerdown in 1956, David had a brief spell at Aylesford pottery in Kent, a Carmellite monastery.
At Lowerdown, David started producing slipware dishes in the earthenware kiln. Also produced was a range of earthenware pottery with manganese glaze over tin producing a soft brown speckled effect. These pots were entirely different to St. Ives ware. In 1961 a two chambered kiln was constructed and first fired in 1962. Students included Jeremy Leach, John Maltby and Tim Andrews. David built the showroom, the pottery building was in place when he took up residence.
Later David started producing stoneware with his characteristic foxglove design, showing great flow and sponteneity of decoration. A film was made in 1976 showing David at work facetting a bowl and glazing a waves plate. The celadon fluted tea set is David's most famous item.
David has used a small kiln since the early 1980's and now has another small kiln which he still uses.
David is a skilled demonstrator and has visited the USA on a number of occasions.
Kathy Niblett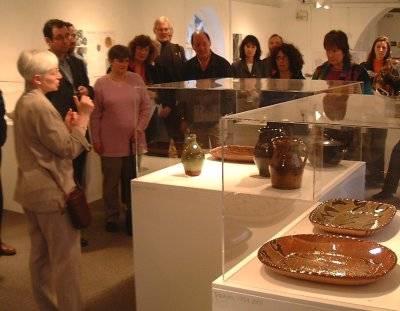 Kathy talked about her job of curator of the David Leach Exhiition, working with David to assemble the collection of pots that tell the story of over 70 years of potting covering the St. Ives, Dartington and Lowerdown years. She has known David for over twenty years, 1981 was her first visit to Lowerdown to acquire pots. She remembered the 7 Studio Potters exhibition of 1981 at Stoke-on-Trent when David's pots were exhibited along with others from eminent potters such as Mick Casson and Derek Emms. Kathy curated The Complete Table exhibition in the early 1980s. As its name suggests it focussed on domestic ware and again David was included along with Ray Finch, Jane Hamlyn, Janice Tchalenko and Wally Keeler. Studio pottery at that time was going sculptural and so tableware needed a voice.
The preparation for David Leach's Retrospective Exhibition began in August 2001 when Kathy received a phone call from John Leach asking if she would like to curate an exhibition of his father's work. It turned out that 2 other people had also been asked and after an interview at Muchelney, Kathy was given the job. She then started planning - the exhibition would need to show David's life's work and all the themes and styles that he is famous for - foxglove, waves and willow tree decoration, I Ching celadon ware, fluted bowls and tea pots, stoneware bottles, etc. She had decided to show around a hundred pots, David Leach was keen to help with the choice and soon the first selection of pots was completed. For a number of reasons the selection changed substantially in the period coming up to the exhibition - one reason was that David actually sold some of the pots! The exhibition includes some pots that have inspired David, his father's famous Leaping Salmon vase - part of the Milner-White exhibit in York Art Gallery - was one of David's requests but the insurance costs associated with transporting and showing the vase would have been prohibitive so only a photograph of it appears in the exhibition. By September 2002, the collection of pots had risen to 125 and in October 2002 David Leach fired a bowl which was to be the last pot included in the exhibition. One final querk was that when the pots were photographed 4 more mysteriously appeared on the photographs and were included. Early in March 2003, Kathy arrived at Bovey Tracy with a car full of pots, the gallery was in turmoil and David had sent a fluted celadon bowl to a selling exhibition and three others to an exhibition at the CPA - all were fortunately retrieved! The week before the preview was spent setting up the exhibition. David came along to lend a hand and ensure that everything was to his liking, on the Friday he personally signed a number of copies of the book that accompanies the exhibition - copies may still be available at the Devon Guild in Bovey Tracey .
Edmund de Waal
Edmund's talk concentrated on the influences and style of David Leach's work and considered his position in the field of Twentieth century studio pottery. David has always had a commitment to technical innovation, to the training of others and is passionate about pots for the table. David's iconic pots are the porcelain cup and saucer which are influenced by pots from the Chinese Song dynasty. They are beautifully balanced, quiet and show an integrity of form. The profile of foot, bowl and rim seem to matter more to David than the form itself. Bernard Leach actually worried about the amount of porcelain that David was making!
Edmund suggested that brushwork is the downfall of most potters, not so David Leach. His foxglove, wave and willow tree designs elegantly decorate pots of all shapes and sizes from the humble coffee mug to huge stoneware bottles and jars.
On the continent, David's contemporaries were working with industrial manufacturers, Edmund thinks that David Leach could have been our greatest industrial designer. In the U.K. there has been little collaboration between studio potters and the industrial potters. David is currently working with Highland Stoneware of Lochinver who are working on the production of a celadon tea set - their first attempt is included in the exhibition.
Edmund considers David a virtuoso with a commitment to workshop life.
Paul Vincent
Paul's talk considered the role of the craftsman potter in 2003 and how craft pottery fits in with 21st century life.
The potter in a modern society works in the local community and supports other businesses. Studio pottery however sits on the margins of modern society and depends on fewer patrons as studio pottery is not a necessary item. Other problems such as the rising costs of raw materials affect the potter directly and outlets such as crafts shops suffer from spiralling Business Rates. The general public like to use their car and so Council parking policy may deter people from visiting some towns and cities. Paul mentioned that one of the best craft shops in Britain has recently closed in Oxford, this will affect the livelyhood of a large number of craftsmen.
So 51 years on from the1952 exhibition the difficulties facing potters and their position in society is still topical.
Paul's talk closed early to allow for more time to be devoted to the two remaining sessions.
Tim Andrews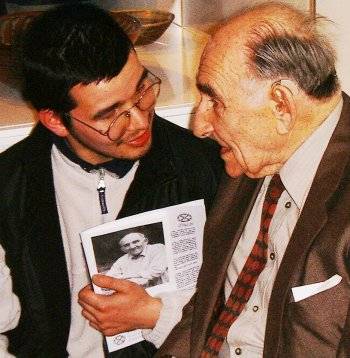 This was the session that I believe most people were waiting for.

Tim Andrews is one of David Leach's former pupils and was the ideal man to lead a discussion with David who has an excellent memory and is always happy to relate stories of his past even as far back as his childhood. The questions were designed for David to tell his life story albeit in a very abbreviated form.


Tim began by asking David about his earliest memories....
I was born in Japan and made my first pot at the age of 6 in 1917. It was a cup with a handle and I remember scratching my name on it. I went to a Japanese kindergarden school and learned Japanese before English and enjoyed the singing and dancing classes.
At one point David broke into song, singing a few words from a maypole song that he had learned over 80 years ago!
I came to England in 1920, Shoji Hamada came back with us on the ship, it took 6 weeks. I remember Hamada telling me to jump into a swimming pool on the ship and swim across. I wasn't a good swimmer but Hamada helped me across.
Tim asked about the early days at St. Ives and his memories of Michael Cardew ....
Michael Cardew came to St. Ives in 1923, he was a handsome fellow. My father took to Cardew straight away and invited him top stay. I was away at boarding school but I spent the long holidays at the pottery. At 19, I enjoyed biology, my maternal grandmother was a doctor but I needed a scholarship and was not good enough so I didn't go to university.I became interested in my father's work and wanted to be associated with it so I joined, he was surprised and delighted.
David was asked about his early memories of Dartington Hall ....
My father Bernard came to Dartington in 1931 and befriended Mark Toby an American artist who worked at Dartington. In 1934 they both went to Japan and I did some exploratory work on the possibility of setting up a pottery department at Dartington. I had only been potting at St. Ives for three years so this was a great responsibility. Clement Freud was a pupil and went to my pottery class, he was a girlish boy aged 9 and I can remember him saying - 'give me a half crown and I'll get a flagon of cider as it is too hot at the pottery'. Later Clement said I was reponsible for his taking to drink and gambling!
Tim asked about the watime bomb incident at St. Ives ....I was an Air Raid Warden. When there was an air raid the pottery was a place of gathering, I carried on potting while everyone else watched. A bomb landed in the pottery garden, the roof was on fire and my wife Elizabeth who was seven months pregnant (Jeremy), rushed upstairs and picked up Johnnie. There was an explosion but fortunately she was in the safest place (on the stairs), the bedroom window was blown out by the blast and glass flew everywhere. She dashed out into the air raid shelter with Johnnie, we were very lucky.
I was called up despite being a pacifist as I had missed the Concientious Objectors Tribunal. I refused to take orders and wear a uniform and was sent to Dorchester prison for 28 days. After that I stuck to my pacifism and was sent to the Glass House in Shepton Mallet for three months.Whilst there I had a severe attack of Appendicitus but recovered. All my civilian clothes had been taken away so I only had my pants and a blanket in the vehicle on the trip back to Dorchester from hospital. It was a cold February night. I remember calls of here comes Gandhi as I was returned to my cell!
Over the years David has been in demand as a demonstrator and exhibitor, Tim asked if there had been any interesting incidents ...
I remember a workshop at the Anderson Ranch in the USA when I backed into a sculptural pot which was worth thousands of dollars. The maker Paul ??????? stuck it back together and it later toured in his retrospective exhibition. He said that it was one of his best pieces after it was broken!
I remember a large spider on my bedroom wall when I was at a conference in Venezuala. The locals said that they don't bother with spiders but it jumped off the wall onto my head!
Tim asked about the students that David has had at Lowerdown ...
Buster Hogan was a real rough diamond from Melbourne, he really liked his beer. He went to the local pub and got pints given to him. He was so strong, he could carry large weights into town barefoot. I remember my son Simon tried to hammer his toes!
Tim's final question concerned the recent collaboration with Highland Stoneware of Lochinver to produce a celadon tea set ...
I have always been interested in a link with industrial scale manufacture. Hand craftsmen can make what they want but industry can't and inventiveness is difficult. I approached Highland Stoneware to see if they could take the porcelain tea set into mould made industrial ware. This would mean converting a hand made, personally expressed item into an industrial mould process. Would it be possible and what would the result look like.
As mentioned earlier, the accompanying exhibition includes the prototype tea set produced in Lochinver. The tea pot and jug were thrown and the other pieces moulded. The Highland Stoneware representative agreed that the teapot spout needed some work further on its shape.
Question and Answer Session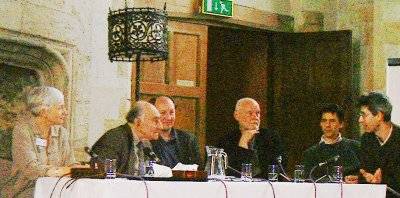 The final session resembled BBC Question Time with the speakers and David Leach taking questions from the assembled delegates.
---
David Leach Retrospective Exhibition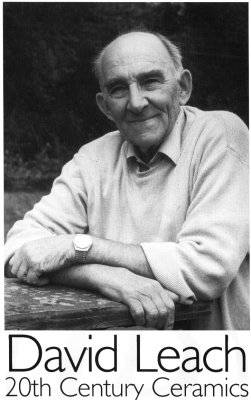 This exhibition celebrates the potting life of David Leach from early pots made at St. Ives and Dartington in the 1930's to examples of David's current work produced at Lowerdown and in collaboration with Clive Bowen at Bideford. Also included are pots that inspired him together with recent work from 4 of his pupils. The David Leach book is part biography and part exhibition catalogue and includes images of all the exhibited pots.
The exhibition is to be shown at 6 venues in the U.K.:
| | |
| --- | --- |
| Devon Guild of Craftsmen, Bovey Tracey | March 15th - April 30th 2003 |
| Burton Art Gallery and Museum, Bideford | May 10th - June 14th 2003 |
| Midlands Art Centre, Birmingham | 13th September - November 8th 2003 |
| Cartwright Hall Gallery, Bradford | 22th November 2003 - 4th January 2004 |
| Penlee House Gallery, Penzance | 17th January - 20th March 2004 |
| Crafts Study Centre, Farnham | May 29th - July 25th 2004 |
The exhibition includes 130 pots which are displayed to illustrate the types of work produced by David Leach through his potting life and show the themes of decoration that he has used over the years - foxglove, wave and willow tree patterns to name but three. Examples of these are shown below :
---
Stoneware dish
wax resist willow decoration dolomite over temmoku, 1991, 356mm.

Slipware press moulded dish waves decoration
1993
350mm.

Three stoneware jars foxglove decoration.

Stoneware fluted tea bowl chun glaze over temmoku 1988
102mm (h).

Stoneware bottle vase zigzag decoration
ilmenite over temmoku
1982, 508mm.
---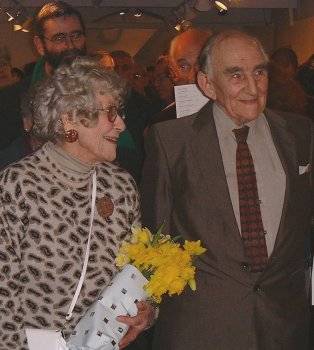 The exhibition preview at the Devon Guild was very well attended, some would say too well attended as guests were packed like sardines and it was not possible to view the exhibits properly. We arrived around half an hour early and I managed to get one of books that David Leach had signed earlier in the day. The exhibition was held in the upper gallery at the Devon Guild's excellent Riverside Mill centre. I saw David Leach arrive and he positively rushed up the stairs to ready himself to greet the guests. Soon everyone filed upstairs to see the exhibition, so many people keen to see the pots and congratulate David on his life's work.
Alex Murdin commenced the formalities of opening the exhibition, welcoming David and Elizabeth Leach and the invited guests to this very special exhibition. Kathy Niblett and Lord Peyton also spoke about David's contribution to the Devon Guild and the world of contemporary ceramics. Elizabeth Leach was presented with a bouquet of Daffodils.
I returned the next morning to have a leisurely look at the exhibition, there were only a handful of people there, quite a contrast to the night before. I was impressed by the way the pots were exhibited to show the different forms and decorative effects used by David over the years. An abridged version of the film of David Leach made by John Anderson in 1976 was showing on a computer, I was fascinated to look at the master facetting a tea pot using a broken hacksaw blade.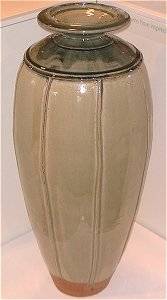 My favourite exhibition pot? Very difficult, I can only narrow it down to three - the 19" stoneware cider jar with a wonderful cross handle, the ilmenite zigzaged bottle vase (above right) or the beautiful 14" stoneware dish with a wax resist willow tree decoration (above left). I did have another favourite - the monumental 32" tall bottle vase by Richard Batterham included in the Pots and Potters that have inspired David Leach section, as illustrated opposite.
---
I am a relative newcomer to contemporary ceramics and a few years ago I had not even heard of the Leach family. Since catching the pottery bug I have been to many exhibitions and visited a number of prominent potters all of whom have been welcoming and very happy to talk about their work, none more so than David Leach. On my last visit to Lowerdown we ended up talking about the internet and how it can help artists and craftsmen show their goods in virtual galleries! At the age of 92 David still has an enquiring mind and has much to contribute, I for one hope that he and Elizabeth have many more happy years together.
Mike Sanderson
Please email me at mike.sanderson@northgate-is.com with any questions and comments.
Back to Index